Water Crisis Hits Kampala Amid COVID-19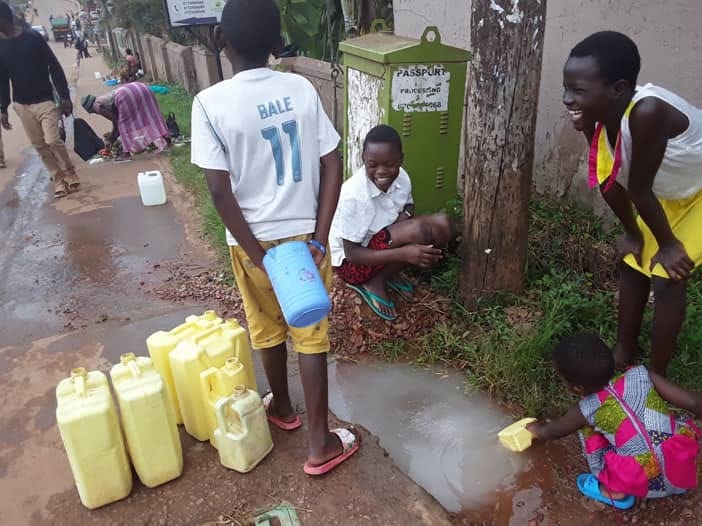 (Children drawing free water for home consumption from a broken NWSC pipe's pool in Zone B, Rubaga Division, Kampala recently. Photo by Jenipher Asiimwe)
According to Water Org, Uganda is currently facing an acute water crisis, with over 51 percent of the country's population lacking access to safe water for home consumption.
Kampala, the country's capital, has over 57 slums faced with the water, sanitation and hygiene challenges.
One of the slums, Kawempe is one of the worst hit divisions in the city during the COVID-19 period, where, according to the Development Research Training, Lutheran World Federation and ACTogether baseline report, over 14 percent of the already distressed and hungry population, lack enough and safe water for drinking and home consumption.
Reacting to the development, Nalongo Adyeeri, one of the bar business owners in Zone B, Kawempe Division, says, although she has incurred losses due to the country's lock down, it was worthy it because of the water crisis in the zone
'First of all, the liquor I sell needs money. I was supposed to buy more tap water, using about 300 Uganda shillings per 20 litre jerry can to enable every customer to wash hands as a government directive. Those would be added expenses!" Nalongo says.
On the other hand, Guma James Muleju, a bodaboda rider and another resident also says that the lack of enough water has affected his sanitation and personal hygiene in the COVID-19 period, where his earnings are so low.
"In need to persevere as my name suggests. Can you imagine! I spend some days without washing my clothes and cleaning my house. Why? It's because of water, which is expensive. So the little I can afford to buy is for drinking, bathing and cooking only," Guma says.
Wilson Kalanzi, the area chairperson, admits facing the water problem. He insists on the government establishing more boreholes in the village housing over 15O households most of who are low income earners.
"We don't have enough water. The one borehole we have is far from some low income earning residents and we don't know how safe the water is because it is in an open place," Kalanzi says.
The Lord Mayor of Kampala City,Erias Lukwago, speaking during the Africa Water Association Congress, said that the Authority has plans of establishing more boreholes and shallow wells in all divisions to address the WASH issues.
Meanwhile, the million dollar question lingers on: How would the WHO global hand washing plea to combat the COVID-19 scourge properly be implemented in a community surviving such a situation?