NATIONAL ADDRESS BY THE STATE PRESIDENT OF THE REPUBLIC OF MALAWI, HIS EXCELLENCY DR. LAZARUS MCCARTHY CHAKWERA. 5 TH JULY, 2020
In the meantime, the financial resources saved from the cancellation will be channeled towards the work of the Presidential Taskforce on Covid-19.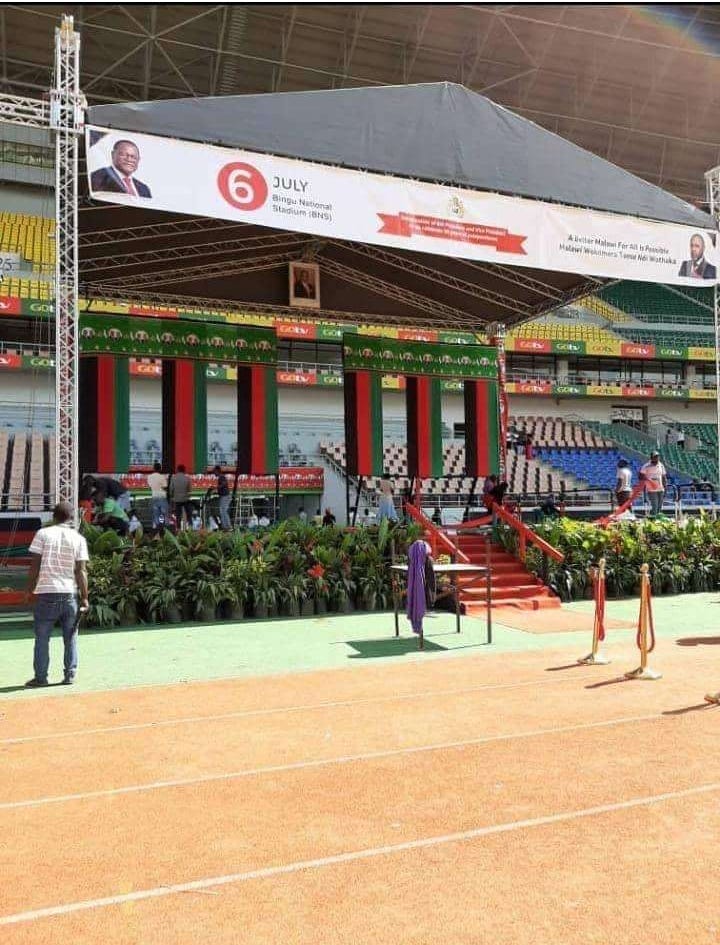 Fellow Citizens, A few hours ago, I directed that the Independence Day Celebrations slated for tomorrow at Bingu National Stadium be cancelled.
As you may recall, yesterday I said that the attendance for the event would be reduced by half from 40,000 to 20,000. I had also directed the Presidential Taskforce on Covid-19 to work with the Inter-ministerial Organizing Committee for the Independence Day Celebration to ensure that tomorrow's event would be conducted under the strictest measures to avoid the spread of the Coronavirus.
However, I have received new information in the last 24 hours that has persuaded me to cancel the event altogether. By the time I addressed you at the start of the day yesterday, the number of confirmed Covid-19 cases was 1,498. By the time the same day ended, that number stood at 1,613, representing a rise of over 7 percent. Of the 115 new confirmed cases, 64% are local transmissions, and they have occurred in all three regions of the country, from the southernmost district of Nsanje to the northernmost district of Chitipa.
In view of this accelerating rate of local transmission and its wide geographical spread, I have decided to cancel the celebration to prevent any persons who may be exposed to the virus in one part of the country from spreading it to other parts as they travel to and from the celebrations.
Meanwhile, a small inauguration ceremony will be held tomorrow morning at Kamuzu Barracks in front of a small audience of 100 who will come strictly by invitation, while the rest of you will be able to watch it on various media platforms.
I therefore urge all members of the public who were planning to travel to the capital for the celebrations to cancel their travel plans accordingly. I know that those of you who were planning to attend the celebrations had already gone to some expense in making preparations, but I am counting on your good nature and good sense to see as I do that your health and safety is of paramount importance.
In the meantime, the financial resources saved from the cancellation will be channeled towards the work of the Presidential Taskforce on Covid-19.
For avoidance of any doubt, I want you to mark my words: We are all at risk of this infection, everyone of us. That includes you, your children, your spouse, your neighbors, and your colleagues at work. It also includes me and the State Vice President. None of us is immune to infection.
That means all of us need to take this pandemic seriously.
I urge you all, every single one of you, to strengthen measures of hygiene around yourself, your home, and your place of work. I remind you to maintain a social distance of at least 1 meter from everyone at all times, wear a mask whenever you are in public spaces or public buildings, limit the number of people who can visit you at home, limit your travel in and out of your district as much as you can, and wash your hands with soap at least every hour.
And if you think you have symptoms, such as fever and shortness of breath, please isolate yourself from others and ask your relations to bring your condition to the attention of your nearest hospital or clinic.
To assist you in this fight, my Administration is exploring various tax exemptions on essential goods that are critical to your hygiene and sanitation, and the Ministry of Finance will be announcing those exemptions soon.
I know that this is a frightening time for us as a nation, especially with dropping temperatures, but I want you to know that if we each use what we have, to do our part where we are, we are going to win this fight.
God bless you and God bless Malawi.