Coronavirus News Brief
Coronavirus - Eswatini: Prime Minister Ambrose Mandvulo Dlamini recieves medical supplies from President of the Republic of Equatorial Guinea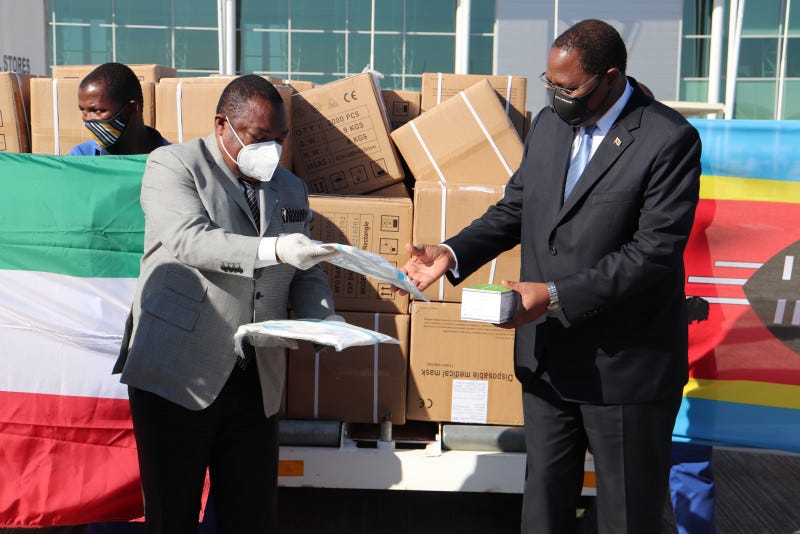 Prime Minister Ambrose Mandvulo Dlamini has this afternoon received, on behalf of His Majesty King Mswati III, medical supplies from President of the Republic of Equatorial Guinea Obiang Nguema Mbasogo meant to strengthen Eswatini's COVID-19 response.
Coronavirus - Ghana: COVID-19 Update 13 July 2020
ACCRA, Ghana, July 14, 2020/ -- Confirmed cases -  24,988

Recoveries/Discharge - 21,067

Deaths - 139

New Cases: 470

Active Cases: 3782
Coronavirus - Somalia: Update on COVID-19 13 July 2020
MOGADISHU, Somalia, July 14, 2020/ -- New cases confirmed today: 13

Somaliland: 9

Puntland: 3

Benadir: 1

Male: 10

Female: 3

Recovery: 37

Death: 0 

Total confirmed cases: 3,072

Total recoveries: 1,343

Total deaths: 93 
Coronavirus - Nigeria: 595 new cases of COVID-19 Nigeria
ABUJA, Nigeria, July 14, 2020/ -- 595 new cases of COVID-19 Nigeria;

Lagos-156 Oyo-141 FCT-99 Edo-47 Kaduna-27 Ondo-22 Rivers-20 Osun-17 Imo-13 Plateau-10 Nasarawa-8 Anambra-8 Kano-5 Benue-5 Borno-5 Ogun-4 Taraba-3 Gombe-3 Kebbi-1 Cross Rivers-1

33,153 confirmed 13,671 discharged 744 deaths
Coronavirus - Kenya: Induction of Rapid Response Vehicles for COVID-19 response in Kenya
NAIROBI, Kenya, July 13, 2020/ -- Today the CS for Health, Mutahi Kagwe handed over Rapid Response Vehicles to various counties, procured by the COVID-19 Health Emergency Response Project (C-HREP) at a cost of Kshs.102 million.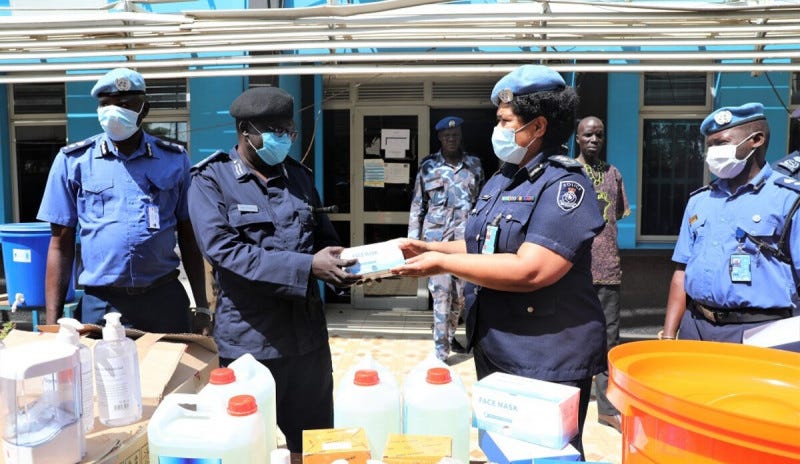 Coronavirus - South Sudan: UNMISS donates COVID-19 personal protection equipment to South Sudanese police
The United Nations Mission in South Sudan, represented by its Police Commissioner Unaisi Vuniwaqa, has handed over an assortment of COVID-19 personal protection equipment to the South Sudan National Police Service at its headquarters in the capital Juba.

"We will make sure that these items will be put to the best possible use, not only in Juba but at key police stations across the country as well," Deputy Inspector General of Police, Lieutenant General James Pui Yak said, while also thanking the peacekeeping mission for its continuous support.

The COVID-19 equipment making up the donation includes face masks, gloves, hand sanitizers, buckets, detergent and thermometers.

"In our endeavour to provide technical assistance to our South Sudanese colleagues, we recognize their crucial role as frontline service providers," the Police Commissioner said, adding that protecting civilians remains a core part of the peacekeeping mission's mandate in the country.

---
---
---